We Have No Quota To Fill But Yours!




Working with Families up to 7 Generations VG & EX

John and Claudette Buma
6525 Best Rd, Orono, On

tario, Canada
(905) 983-5505
e-mail: jodette@netrover.com website: www.rkde.com/jodette

Fresh Heifers Available In Show Months
---
Willdina Inspire Flame B/R EX 2E CAN


Owned by Jodette
Flame has two R&W Redman Heifers one owned with Benrise Farms
3 Lakeside heifers 2 R&W one B/R
Flame's Dam: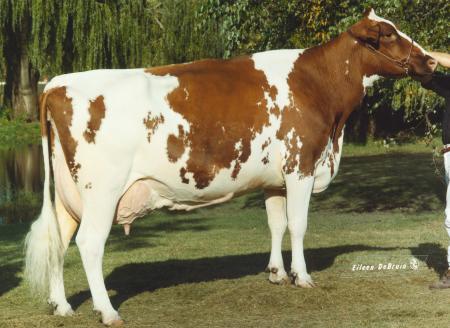 Willdina Royal Fire-Red
Excellent 5E 95 GMD


All-American 1993,94,95,
Reserve All-American R&W 1996,97
Grand Champion 1st 3yr old North Central R&W Show 1992
Grand Champion 1st 4yr old International R&W Show 1993
1st 5yr old International R&W Show 1994
Grand Champion, Best Udder International R&W Show 1995
Grand Champion, Best Udder Grand International R&W Show 1995
Reserve Grand Champion, Best Udder (class) Grand International Show 1996-97
1st 100 000 lb. Cow Grand International Show 1999
Fires Daughters:
Flame (EX CAN 2E), Frenzy (EX USA),
Fireglow-Red (EX 92 USA All-American 1998),
Firefly-Red (Reserve All-American 1995)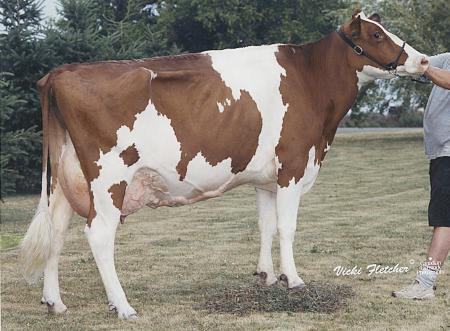 Limbra Factor Flora VG 87


by Renown Factor
From same family as Wilsey Ranger Rosebud
A tremendous deep ribbed cow
Daughters by Redmarker, pregnancies by Kite, Talent
Owned with Fricosons Holsteins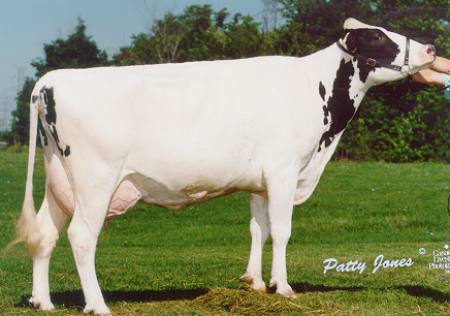 Frieso Ali Gracious VG 88 3*


by Counselor
Dam: EX 8* Sheik
2nd Dam: EX Jetstar
3rd Dam: VG Ned
10 VG Maternal sisters2 Ex Maternal Brothers, one ST 96
40 daughters, 26 daughters classified 96 % GP & better1 EX Raider
(1st 4yr old North Niagara County Show '97)
4 VG Lee, 1 VG Jackpot, 1 VG Mirage, 1 VG Mason
Offspring at Jodette:
1 - Sept. 2002 by Benrise C.C. Hotshot
1 - Mar. 2002 by Lystel Leduc
2 - Sept. 2001 by Renaissance Triumphant
West Port Battin' Rouge Sale

Saturday March 27, 2003 - 11:30 am

at Vanhaven Sale Arena
Uxbridge, Ontario
Consignment
Jodette Lakeside Flicker-Red


Born: July 21, 2003
Grand Dam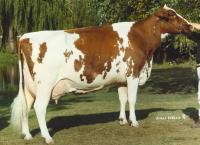 Willdina Royal Fire-Red

Dam:
Willdina Inspire Flame B/R EX 2E CAN

Interested in this Family or others?

Come to the farm and see
Flame and her R/W Redman & Lakeside Daughters,
or Limbra Factor Flora
Please call to verify time
(we are 40 min. from Vanhaven & close to 401)
Durham County Holstein Club Dance
After Battin'Rouge Sale
March 27, 2004-8:30pm @ Blackstock Recreational Centre
Silent Auction and Ticket proceeds go to Henry Wygerde & Family
(The Wygerdes lost their Dairy & Machinery barns to a Fire Nov. 2003)
A Special Thanks to Holstein Canada, Orono Co-op, Hub International
for Items contributed to the Silent Auction
Contact Jodette Holsteins for tickets and directions!
---
EBI Reflections '04 Genetics Showcase & Red Tag Sale
March 31 - April 3, 2004
at the National Holstein Convention
Selling:
Jodette Triumphant Georgia
Born Sept 3, 2001
Fresh Feb 21, 2004

Dam:
Frieso Ali Gracious VG 88 3*
(pictured above)

Maternal Sister

Jodette Leduc Glitter
1st Jr calf Durham County Show 2002

Other Maternal sisters:
Jodette Leduc Glamour
4th Jr calf Durham County Show 2002
1 Ex Raider (1st 4 yr old North Niagara Show 97)
3 VG Lee
1 VG Mason
1 VG Mirage
1 VG Jackpot

Selling:
Jodette Terra Cassandra
Born: September 28, 2002
Bred: February 3, 2004 to Astronomical
(Senior Yearling 2004 with lots of style and great potential)

Full Sister

Jodette Terra Callie
Nominated All-Canadian 4H summer Yearling 2003
1st & Reserve Junior Champion Lindsay Exhibition
2nd Durham County Show;
3rd (2nd 4-H and Reserve Champion 4-H Heifer) at Autumn Opportunity
7th at Ontario County Show;
12th at Scotia Hays Classic;
14th at Royal Winter Fair

Owned with Aleah Farms

Congratulations to Matt Yates with your success with Callie in 2003!
Thank-you for your expertise and dedication you've put into Callie.
We wish Lynn Bell and Routina all the best with the purchase of
Bree & Glitter at the Quebec National Spring Sale 2003!
"Feeding arrangements can be arranged until border opens
for international buyers - please call us for details"
Now Flushing or Embryos available from:
Red Factor! Willdina Inspire Flame B&R EX 2E CAN


Flushed to Redman & Lakeside
Offspring at Jodette:
Jodette Redmans Flare R&W
Jodette Redmans Fire R&W


Jodette Lakeside Flicker - Red


Jodetter Lakeside Flash - Red
Jodette Lakeside Flame B/R
Fricosons Prelude Olivia VG 87 2*


Embryos available by Leduc & Skyfame

Shoremar Aero Misty VG 87 1* (7 gen VG or EX)


10 daughters 100% GP
Daughters & Embryos available by Leduc & Triumphant

Frieso Ali Gracious VG 88 3*


Embryos available by Triumphant & Champion, Raider

Limbra Factor Flora - R&W VG 87


Embryos available by Redmarker, Kite & Talent
Owned with Fricosons Holsteins

Altona Lea Prelude Gladys VG 88


Full sister to Canada's 1st 5 gen Ex
Flushed to Gibson & Skyfame
*If interested in renting out your heifers as recipients, please contact us.*
---
Remember we do not have the facilities to milk, if
interested in purchasing or just putting a lactation on one of our animals
Contact us
---